"Bolero," an instrumental song written by Colombian American composer Eustasio Rosales arranged by Marimba titan Clair Omar Musser for the marimba. The piece was performed by Musser's Century of Progress Marimba Orchestra in 1933. The Chicago Tribune at the time reported:
…[You] will hear some music specifically written for the group, Rosales' Bolero for one, which is not Ravel's famous work of the same name, but a good piece just the same, also an arrangement of a suite from "Carmen," also made with the organization in mind. The concerts are drawing enormous crowds, just as always happens when something musically attractive goes on at A Century of Progress. They are confidently recommended.
Additional information on the Century of Progress marimba concerts is available at SteveWeissMusic.com. Rosales' "Bolero" was also performed in Chicago's open air Grant Park after Rosales' death in the 1940s.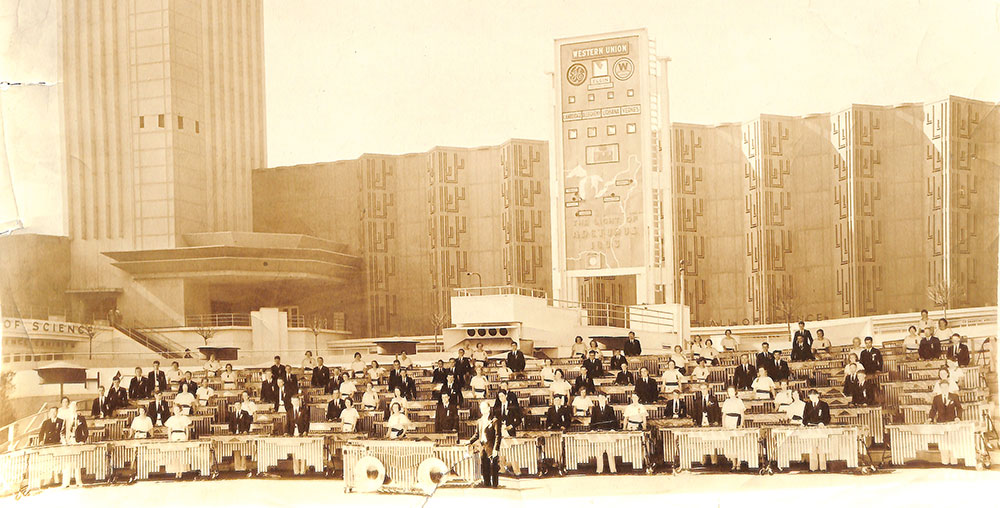 Today the song "Bolero" remains popular among percussion ensembles, decades after it was written. It somewhat regularly played by high school and college marimba bands across the United States. Videos of many performances of Rosales' Bolero can be found on YouTube.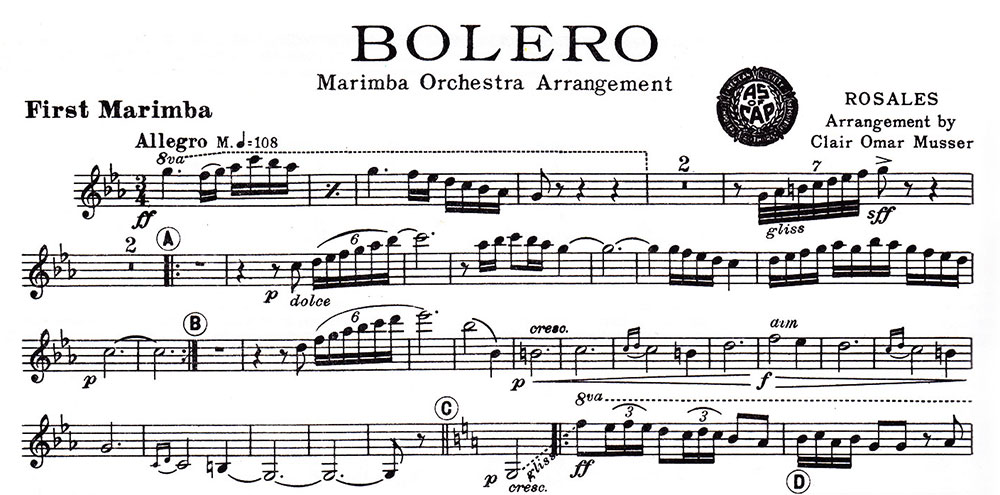 Here is an alternate version of Eustasio Rosales' "Bolero" which has strings added to it:

The credits for this version are as follows:
Bolero En Re
(Bolero Español)
Eustacio Rosales
Versión Instrumental: Jaime Amado – Carlos Renán González
Trío Contraste
Surrungueos & Baqueteos (Álbum)
Arreglo Y Producción: Carlos Renán González
Año: 2003
Música Colombiana
Clásicas Colombianas

Trío Contraste Son:

Tania Mojica Caballero (Marimba)
Carlos Renán González Ojeda (Tiple/ Bandola)
Camilo Valderrama Molano (Guitarra)

Ingeniería De Grabación Y Mezcla: Carlos Rojas
Grabación: Audioimagen Digital Studio
Diseño De Carátula, Logo Y Fotografía: Fabio Ernesto Mojica