Donate to help bring more of Eustasio's music to life →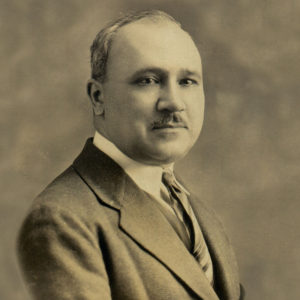 Eustasio Rosales, born July 1, 1875 in Bogotá, Colombia, was a groundbreaking immigrant composer. He composed a wide variety of music both in Colombia and the United States, with his music eventually performed by the Chicago Symphony Orchestra.
Born to a prominent family, Rosales displayed interest in music and composed his first work for orchestra at age 12. After being sent to the National Academy of Music for instruction, he became an instructor there at age 18, specializing in violin, music theory, and composition. The Chicago Symphony Orchestra published a biography of Rosales that explained: "It was at that time that Rosales composed the operetta, Amor y Dados, [Love and Dice] the success of which moved him to the composition of a second work of a similar character, Doctor Capirote."
Rosales subsequently visited the United States for the World's Columbian Exposition in 1893 and fell in love with the City of Chicago. A few years later in 1900 he came back to Chicago as an immigrant, determined to make the United States his new home. Upon arriving in Chicago, Rosales composed original sheet music for various publishing companies. He also was the conductor of a rooftop nightclub at the LaSalle Hotel in the 1920s. He also toured North America with his American in-laws as part of the Zeddler Symphonic Quintet for Chautauqua events. During the Great Depression Rosales taught music lessons and played the organ at the Ascension Catholic Church in Oak Park, Illinois.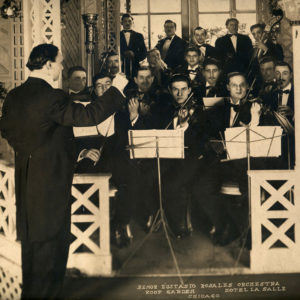 Rosales married an American woman, Mary Hyland and eventually had two daughters. His well-reviewed work "Three Spanish Dances" was premiered at the Chicago Symphony Orchestra as part of the 1932-33 season. Rosales unfortunately died on Christmas morning, 1934, leaving boxes of unperformed sheet music behind. From a musical perspective, his work combines romantic classical music with Latin rhythms. He is believed to have been Chicago's first Hispanic composer.
Today, Rosales' legacy lives on. His song Rosales' Bolero is performed by percussion ensembles across the United States, and an opera he wrote called Andina was given a world premiere, 80 years after it was written. You can listen to the music of Andina and watch the opera documentary about that adventure on our sister website.
Learn more about Eustasio Rosales' music. Browse archival documents about Eustasio Rosales.
Alternate name spellings for Eustasio Rosales: Eustacio Rosales, Eustaseo Rosales, Eustasio Martin Rosales Patiño.